202 Normanby Road, Southbank
Client: Blue Earth Pty Ltd
Project type: Residential / Multi-Unit
Stakeholders: City of Port Phillip, DELWP, local community
Value: Approx. $90 million
Services provided: Planning advice, planning permit amendment, planning facilitation

The project
In late 2017, property developers Blue Earth approached UPco with an interesting challenge. They'd secured a site in Melbourne's Southbank, which came with a permit to construct a mixed-use 40-level building – a development that would combine residential, retail, office and parking space.

However, our client decided it wanted to make some amendments to the approved design, and to utilise some of the proposed apartments as short-stay accommodation. The challenge: this would require a number of amendments to the original proposal.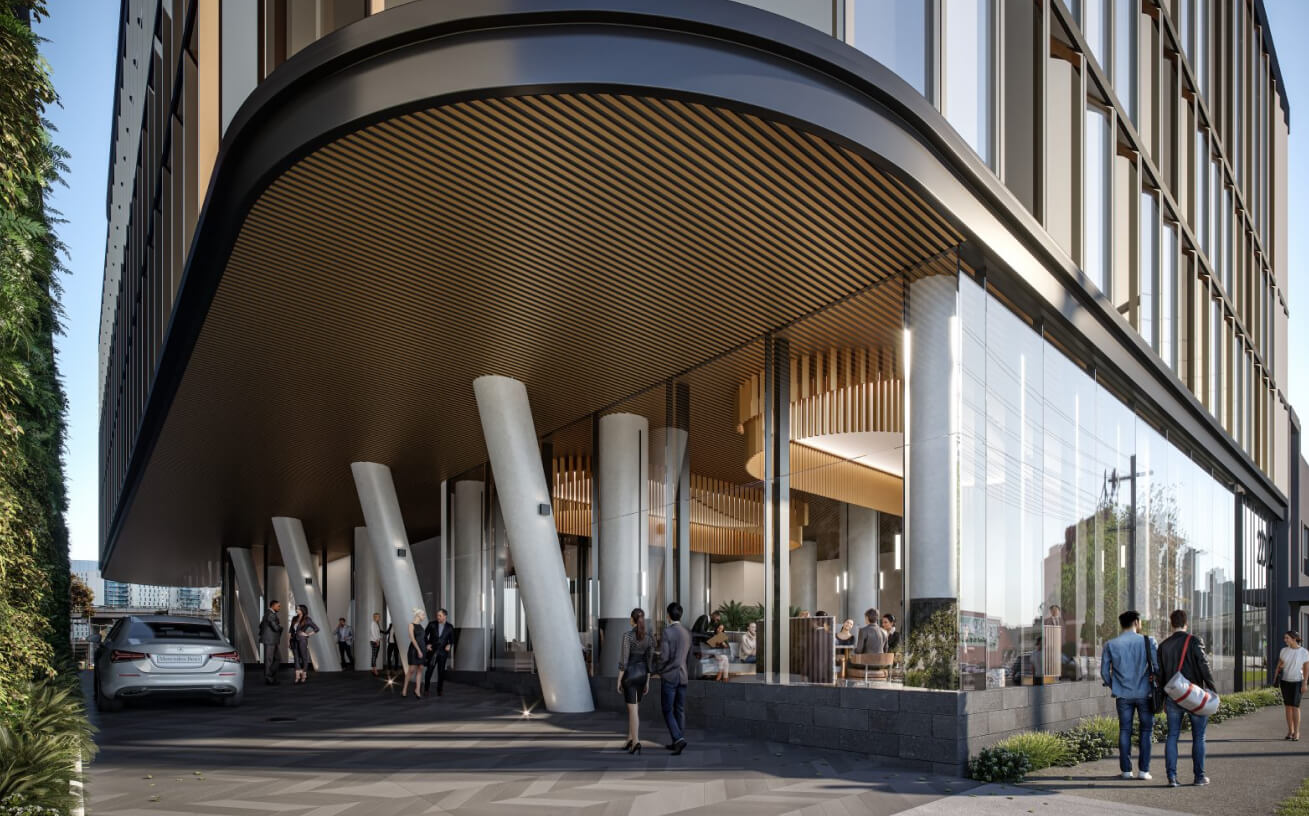 The challenge
UPco was engaged to help Blue Earth realise its revised vision – a striking skyscraper designed by CHT Architects. The intended design featured a glistening façade and 'floating' cantilevered design, and would breathe fresh life into the surrounding Fishermans Bend Precinct (where development had been sluggish).

We worked closely with our client, CHT Architects and Council to obtain approvals for a number of planning amendments. These allowed for refinements to the building design and, of course, a change of use for short-stay accommodation.

A change in Planning Controls had also come into effect since the original DA was received, which meant proposals for buildings of this height would no longer be approved. As a result, it was critical that UPco work efficiently so the building could be completed within the prescribed timeframe at the height originally intended.

The outcome
Thanks to extensive collaboration and negotiation, UPco obtained all the amendments we requested and approval for the development to go ahead.

Construction was completed in 2021, and the end result is Oakwood: a luxury hotel and serviced apartment building featuring a wine bar, conference rooms, an event space and a restaurant. At the very top is a 360 degree Skybar offering unparalleled views of the city skyline and Port Phillip Bay. The hotel is set to open in 2022, and will contribute to the ongoing urban renewal of the area.