South East Water, Frankston
Client: South East Water Corporation
Project type: Commercial
Stakeholders: South East Water, City of Frankston, Minister for Planning
Value: $70 million
Services provided: Planning advice, Planning Scheme Amendment, Planning facilitation

The project
South East Water Corporation (SEWC) is responsible for providing water and sewage services across a large area of Melbourne – and as the business evolved, they'd established three offices in Heatherton, Dandenong South and Lynbrook. In 2012, SEWC made the big decision to bring all their people and operations together in one headquarters – no small undertaking given they have over 600 employees.

After looking at a number of sites, SEWC selected a 'surplus' council-owned carpark at 101 Wells Street, Frankston. The site won out for many reasons, including its stunning water views, its proximity to the Frankston CBD and its great surrounding amenities.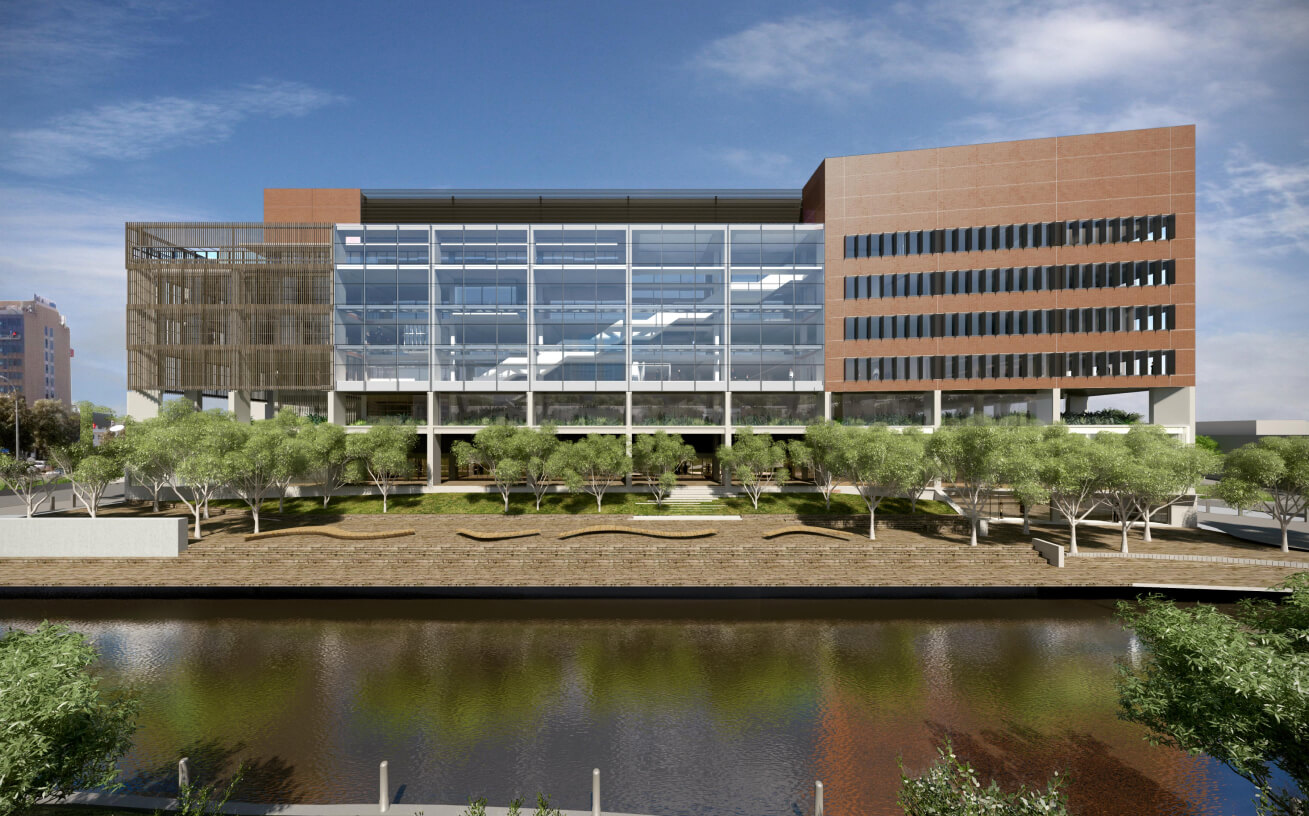 The challenge
The idea was to transform the existing carpark into a state-of-the-art eight-storey commercial building, with ample office space (and a roof terrace) for SEWC, plus 546 square metres of retail space at ground floor level. The building needed to achieve at least a 5 Star Green Star (as designed) and 4.5 star NABERS. And, critically, it needed to be ready for SEWC to move into by January 2015.

This timeframe was the first challenge UPco faced when SEWC enlisted us to obtain planning permission. We had a lot to accomplish in a relatively short time.

The outcome
We quickly realised that we couldn't achieve our desired outcomes using a 'conventional' planning process. So, we devised an alternative strategy that directed approvals (via a site-specific control) through the Minister for Planning, rather than the local Council, primarily in recognition of the development's regional significance. This approach was embraced by the Council.

Prior to lodging our Planning Scheme Amendment request with the Minister, we supported SEWC in undertaking an extremely comprehensive community and stakeholder engagement process. This helped convinced the Minister to exempt the Planning Scheme Amendment from the normal statutory exhibition process – significantly 'de-risking' the process and saving a lot of time.

Working together with SEWC, BVN Donovan Hill Architects, the Council and Minister for Planning's Department, we were successful in gaining approval for the site to go ahead – and SEWC were able to move into their brand new HQ right on time.