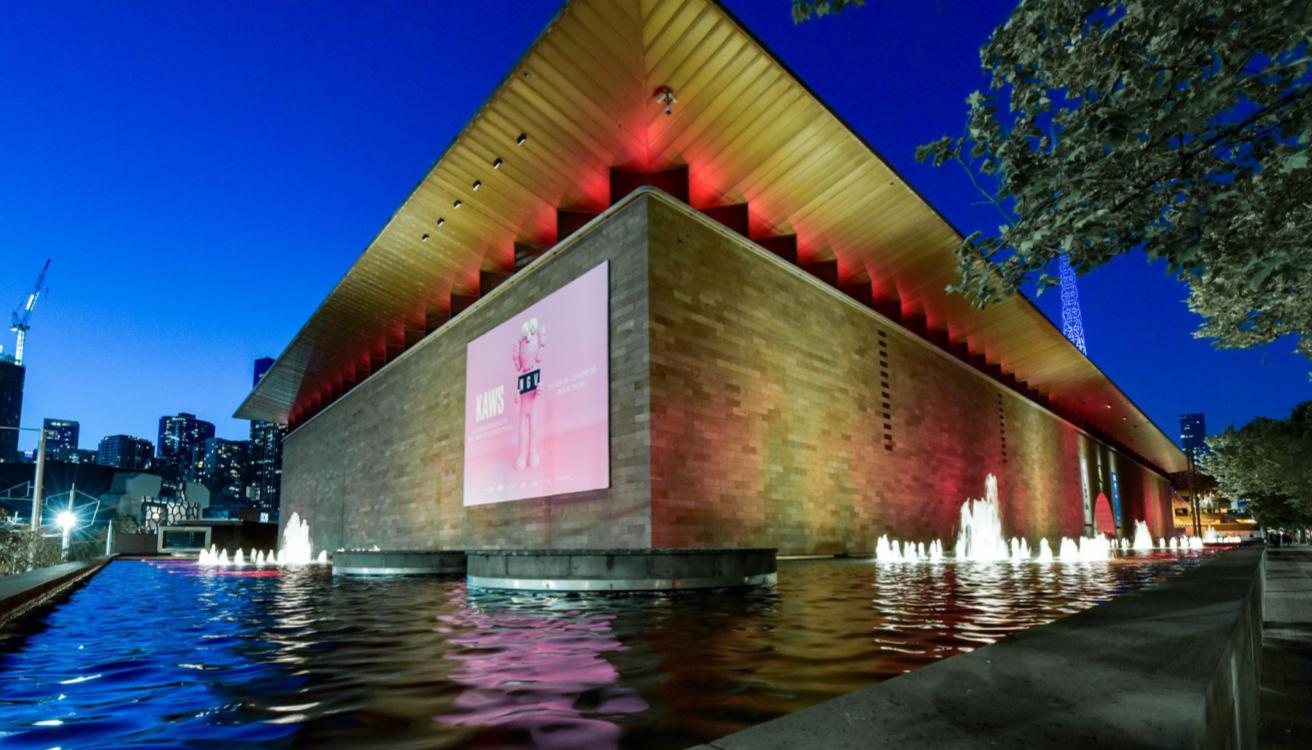 At UPco, our team is passionate about the built environment, and we love seeing beautiful architecture come to life. We all have particular buildings that we especially love – and, in light of the recent announcement of the winning design for NGV Contemporary, we asked Director Marc Ellenbroek to talk about his personal favourite: the National Gallery of Victoria.
For those who aren't already familiar with this much-loved cultural centre, let's start with a recap of its history and significance.
The NGV was founded in the 1860s, however the iconic building on St Kilda Road only opened its doors in 1968, after the State government commissioned a design from architect Roy Grounds (of Grounds, Romberg and Boyd). Grounds had a vision for a light, spacious gallery that married together modernist principles and medieval inspiration, including a surrounding moat and free-flowing water wall, and a stained glass ceiling by Australian artist, Leonard French.
In 1997, redevelopment of the building was proposed, with Mario Bellini chosen as architect. The design involved creating all new galleries leaving only the exterior, the central courtyard and the Great Hall intact. Initially, plans also included removing the water wall, but public protests (organised by the National Trust Victoria) thankfully put an end to that idea!
Set across two buildings, the gallery now features a series of floors and palazzo-like spaces, as well as one of the largest rooftop gardens in Australia. Stepping inside, its light, spacious interiors are striking yet welcoming, and every facet of the design has been carefully detailed and integrated.
Now heritage-listed, the gallery also brings with it new and even higher standards for the maintenance and display of works of art – creating a perfectly curated environment in keeping with the gallery's outstanding history of art conservation. And, as Melbourne's Arts Precinct continues to evolve, the NGV will remain a focal point.
There's a lot to love about the NGV. But why is it Marc's favourite?
"Externally, I love its scale, presence and modernist simplicity," says Marc. "Its robust bluestone form crowned with angled glass and effortless flat roof, its central arched entry, interactive water wall and framing moat with water features, nestled in amongst the St Kilda Road plane trees – it has an innate ability to capture the imagination.
"Once you pass beyond the water wall and into the building, the experience is no less dramatic. The volume of the spaces, the immense atrium and abundance of natural light and Great Hall with its stained glass ceiling are amazing features. I will happily go just to enjoy being in the space as much as to admire the art. The outdoor spaces are inviting and ever-evolving art galleries in their own right. The interactive children's exhibitions are always fun.
"From a planning perspective, the NGV is also significant as the centrepiece of Melbourne's Arts Precinct, which draws activity across the Yarra to Southbank and is integral to Melbourne's vibrant and connected city centre. It really is a unique community asset that has something for Melburnians and visitors of all ages."
Curious to know more about the NGV? Explore the National Gallery of Victoria website, or drop by for a mid-week mosey round the latest exhibition, Friday night grooves courtesy of resident DJs, or a visit to the design store. Who knows, you may even bump into Marc!
Image credit: National Gallery of Victoria